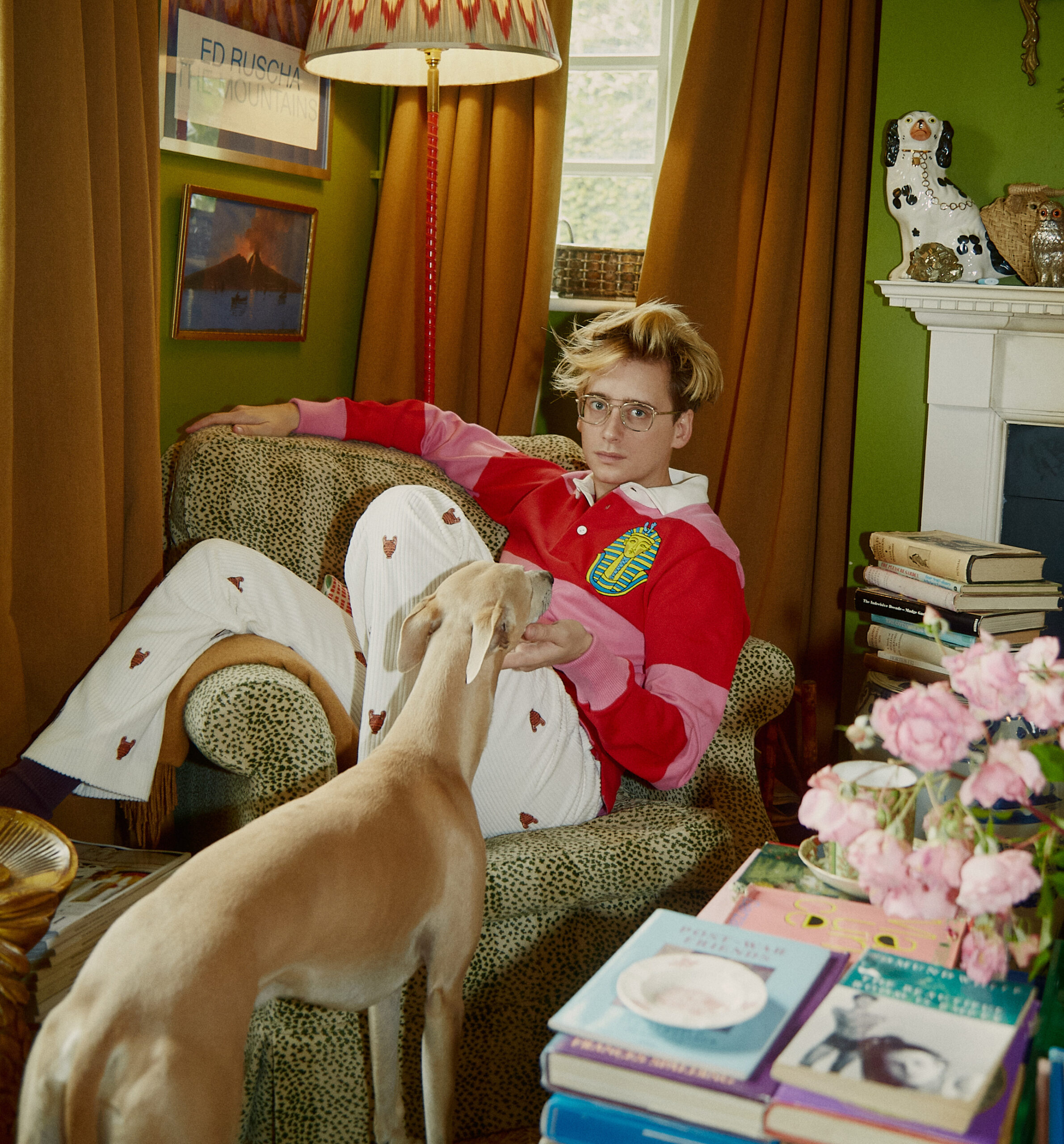 Luke in the home he shares with husband Duncan Campbell and their dog, Merlin. Photo: Billal Taright
Earlier this year, artist, designer, and friend of the studio, Luke Edward Hall (@lukeedwardhall on Instagram), launched Chateau Orlando, a new clothing and accessories brand. The brand distils many of Luke's visual and creative interests into collections that celebrate a joie de vivre approach to colour, pattern, and texture.
Luke spoke to me about his favourite things, including his love of Venice and Bavarian castles.
Your work often takes you to Italy. Talk us through a dream day in Venice.
Venice is essentially my favourite place to visit. I'd be with my husband Duncan, and it'd be winter, so we'd be wrapped up against the cold. We'd start the day bright and early with a pastry. I love the Italian versions that aren't very flaky. I'd have one filled with pistachio and a cappuccino or two, standing at the bar at Quadri in Saint Mark's Square. Florian is opposite but I prefer the tiny bar at Quadri. Then, we'd wander, dipping in and out of museums and churches. Lunch would be plates of vegetables in oil, meatballs and biscuits with sweet wine at Alla Vedova. We'd go for a nap, then head out for cocktails at a hotel bar, followed by dinner at one of our favourites – Al Covo, perhaps. Or we'd see our chef and author friend Skye McAlpine if she's in town. A slow walk back to our hotel, meandering over bridges and foggy canals. Clearly this day is going to be heavily focused around eating… We're pretty greedy people, and Venice is a good place to eat if you're happy to seek out the interesting places.
You launched Chateau Orlando earlier this year. Tell us about the brand, your inspiration, and influences?
We're all about squeezing the maximum juice out of life and celebrating colour and pattern. I would say that the brand is certainly an extension of my own personal design style, the style I've been building up since I started my studio back in 2015. Since then I've experimented with making things, and I've worked on a lot of collaborations. Chateau Orlando is a new chapter. I'm able to channel my vision, and I'm doing this with the help of a brilliant team based in Milan. I want to create a sense of otherworldly romance, a feeling of playfulness. I'm often inspired by the past, but I want to make things that feel modern, bold and full of character. I also like the idea of making things that can be mixed easily with pieces that one might already own – thinking about vintage and antique clothes and homeware. My inspirations for the brand come from all over: old houses and gardens, novels, music, folklore and mythology… Each collection will have its own story.
Your new book, A Kind of Magic, gives an insight into the spaces you live and work in, both in London and the country. Where most feels like home to you?
I really enjoy spending time in London and I really enjoy spending time in the country – I like the peace and quiet I experience in the country balanced with the energy I get from the city. I have to say though, I'm really loving mostly being in the country. I feel very happy waking up to our garden, fields and muddy lanes. It's good for my head. Plus, my studio is based up the road from our cottage; these days my work feels rooted in the country.
Your garden in the country is a joy. How much does it influence your work?
It influences my work a huge amount. Often in direct ways: there is a selection of knitwear that forms part of our latest Chateau Orlando collection that comes emblazoned with an embroidered yellow rose, inspired by the ones we grow in our garden. But it also inspires me in less obvious ways. It's about the atmosphere of the garden: the smells and sounds, the solitude… Sort of hard to explain but I think you'll understand what I mean, Sean!
What are you usually listening to when working in your studio? Any other studio habits – candles/incense burning? Flowers on display?
Occasionally I'll listen to an audiobook or a podcast, but usually it's music, because music can help me get into a kind of trance, which is very useful when I'm painting or drawing. I like a mix: electronic, Celtic, medieval! I need atmospheric music that can transport me. It might be some ten minute long Renaissance piece followed by a super futuristic pop bop and an Enya instrumental. I like harps and synthesisers, lutes and drum machines. Ethereal stuff!
We're all coming round for lunch at yours. What's on the menu?
It really depends on the season, but as it's November it might be something hearty like a chicken pie with lots of cavolo nero. I love a dark leafy green. We like to make pasta so it could be ravioli stuffed with pumpkin and ricotta, doused in sage butter. I'm a big puddings person and baking is therapeutic for me, so I'd do something like a pear and almond tart. Negronis or martinis to start, and we'd finish with Frangelico, that delicious and addictive hazelnut liqueur from Piedmont.
Quick fire round.
Favourite castle?
I'm desperate to visit King Ludwig II's castles in Bavaria. I'm obsessed with his story. I love the idea that they're kind of more like stage sets than homes. I can't wait to see the grotto at Linderhof, with its artificial illuminations.
Favourite museum shop?
I think for me it's more about particular items. One of my favourite t-shirts I own I bought a few years ago from the Borghese Gallery in Rome: it says 'I LOVE CARAVAGGIO' in big letters on the front: very simple and bold. I like classic tourist merch with a 1980s/1990s flavour: patches and postcards and badges. Sadly a lot of museum merch these days feels kind of naff.
Favourite English garden?
Rousham is very close to us in the country and I can never get enough of its Arcadian atmosphere and William Kent magic. Down by the river is the perfect spot for a summer picnic.
Favourite myth/legend/folklore?
I'm currently working on a project with a poet and it's all based around queer classical stories. I have been brushing up on my myths, the famous ones and rather obscure ones, some of which are new to me. I've been thinking a lot about the story of Hyacinthus, whose blood grew into a flower after he was accidentally killed by his lover, Apollo.
Favourite park in London?
We live near Regent's Park and we often take our whippet Merlin for a walk there. Plus it's close to Primrose Hill, which has an excellent bakery and a very good bookshop.
Favourite book you've read recently?
I found Young Mungo by Douglas Stuart completely captivating. It was heart-breaking but funny at times, and there was a glimmer of optimism in its pages, too.
Chateau Orlando is available to shop now chateauorlando.com.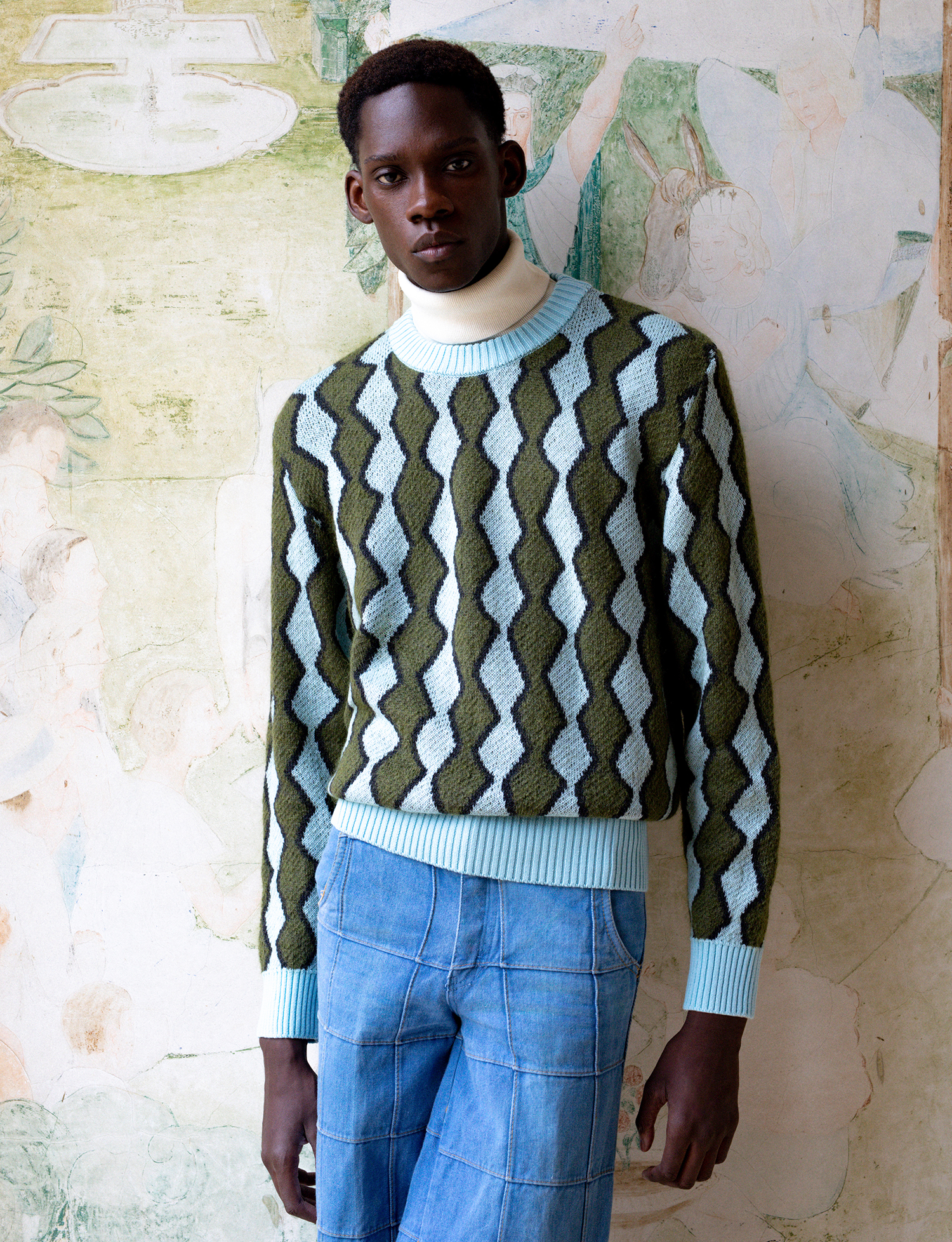 Chateau Orlando Ziggy Crewneck. Photo: Will Waterworth.